When you donate to Goodwill you help people achieve independence and dignity through work.
What to Donate
Goodwill gratefully accepts gently-used goods in usable condition. Please donate clothing; shoes; accessories including belts, handbags, hats, jewelry, and scarves; backpacks; bags; luggage; cookware including bakeware, dishes, glassware, pots, and pans; small electronics including alarm clocks, coffee pots, and toaster ovens; and home electronics including computers, laptops, stereo equipment, books, CDs, and DVDs.
We ask that you not donate ripped, dirty, or broken goods; car seats; playpens; cribs; large furniture; mattresses; bed frames; encyclopedias; textbooks; cassette tapes; VHS tapes; TVs; exercise equipment; tires; or cleaning supplies, paint, batteries, or any other hazardous materials.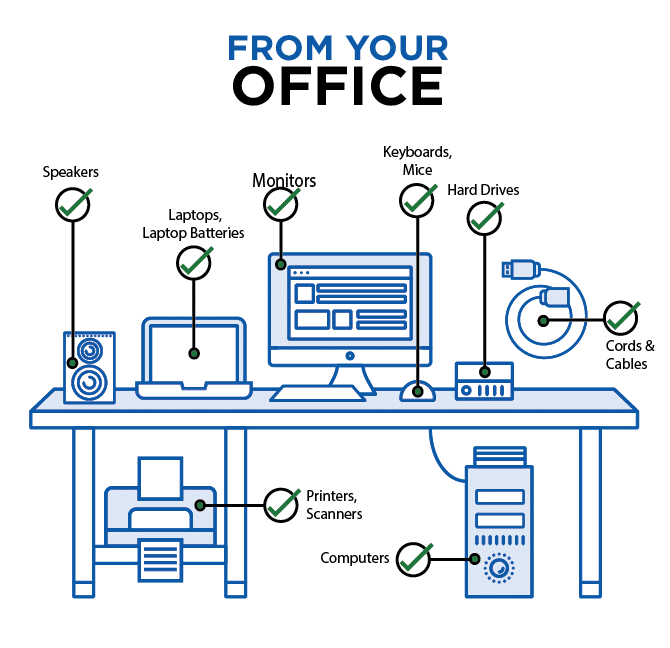 Dell Reconnect, a partnership between Goodwill and Dell, offers residents the opportunity to donate old computers free of charge. All computers and parts are responsibly recycled within the United States. It's always best practice to wipe all personal data off your devices before donating.
Computers and Devices
Desktop and Laptop Computers, Phones and Tablets. You are responsible for backing up any valuable information and erasing sensitive data from the hard drive or device before donating.

Cords and Cables – Including power cords and USB cables

Hard drives – External/internal

Ink and Toner Cartridges – Full or empty

Keyboards – Wired/wireless

Mice – Wired/wireless
Microsoft Xbox® – Systems and peripherals

Microsoft Zune® – Systems and peripherals

Microsoft-branded Webcams

Monitors

Printers – Including laser and inkjet

Scanners

Software – Please include license key

Speakers – With/without cables
Schedule pick up with College Hunks Hauling
You can schedule a no-obligation visit via the following methods:
Visit www.CollegeHunks.com and complete a "Pick Up Request" form.
Call College Hunks at 888-461-5241 and identify yourself as a Goodwill donation partner with a request for pick-up service.
College Hunks Hauling will visit your location and provide a no-obligation estimate for removal and transport of your items. If the estimate meets with your approval, the College Hunks Hauling team will immediately proceed with your pick up.
*Please note that under the Pension Reform Act of 2006: Donated items must be in good condition in order to claim a deduction, and a qualified appraisal must accompany claims greater than $500. The law does not define "good condition," and the IRS says the responsibility of defining the condition and value of the items is the responsibility of the donor. To determine the fair market value for your donations, we recommend that you obtain IRS publications 526 and 561 or visit the IRS website at www.irs.gov/pub/irs-pdf/p561.pdf.